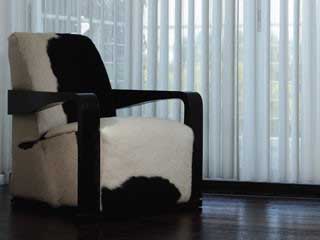 You'll be amazed at the range of options we provide for vertical window treatments. When you need vertical blinds in the Sherman Oaks area, we're the company that provides total control over every aspect of the design. Pick from wood, vinyl or aluminum blinds, in any of a huge range of colors. Combine your window coverings with soft furnishings with our range of vertical blinds with curtains. Choose how to operate your blinds, and whether you want to invest in motorized vertical blinds. All of these options let you find the ideal new custom vertical blinds for any room, whether it's at your home or your workplace. Speak with an expert from Sherman Oaks Blinds & Shades today to schedule a free in-person consultation. We'll show you our vast 2020 collection of door and window blinds and help you customize something for your budget and needs.
Low-Cost Vertical Blinds Installation
Our incredible deals on vertical window coverings (custom made, did we mentioned that?) make it easy to afford the perfect vertical window/door blinds. Apart from giving you total in-depth control over the precise design of your blinds, we also provide expert installation services. Our Sherman Oaks-based blinds specialists will carefully measure and fit your new door or window treatments for a perfect finish. This means you never have to worry about the hassle of installing your own vertical blinds. We take care of all the hard work. All you need to do is choose your dream design and enjoy all the benefits!
Sherman Oaks Vertical Blinds Deals
Our amazing rates on vertical blinds give you an easy way to upgrade any property with improved lighting and better privacy. Our top-quality blinds are particularly excellent when you have a large window to cover. We offer specially-designed products, such as vertical blinds for sliding glass doors, that make it easy to keep out unwanted sunlight and prying eyes. Our Sherman Oaks-based team also produces vertical blinds for patio doors, another key area where homeowners need protection from sunlight and prying eyes. You'll never have to worry about dazzling rays or peeping neighbors again when you use our vertical blinds for windows of any size.
Great Deals For Local Businesses
Comfort and privacy are just as important at work as they are at home. We offer our range of high-quality vertical blinds to Sherman Oaks-based businesses as well, and our selection of vertical blinds for office windows is the perfect addition to any workplace. It's hard to get the most out of your employees if they're constantly struggling with eye strain and dazzle-induced headaches. Why not install cheap vertical blinds to prevent these problems? The team here at Sherman Oaks Blinds & Shades stands ready to offer you a free estimate on any combination of vertical blinds you want, motorized, blackout or other.
Motorized Vertical Blinds Sellers & Installers
We're proud to provide residents of Sherman Oaks and nearby with access to the best custom made motorized vertical blinds in Sherman Oaks or anywhere else nearby. Our totally-custom design service means you'll always get exactly the right blinds for any room in your home, no matter what material or color you desire. And the silent blinds motors we use can respond to remote controls and Wi-Fi connected smartphones or tablets. Our high level of quality and attention to detail all come at a low price, too. Find out how little it could cost to improve your home today. Speak with our experts on motorized blinds in Sherman Oaks to schedule your free, no-obligation quote.