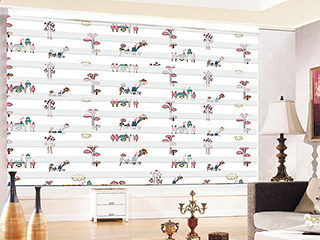 Elegant and functional, layered shades can give your home or office a unique and welcoming atmosphere. With these window treatments, it is easy to adjust ambient light filtering and make it in line with your preferences.
What Do You Offer?
Our company offers a wide selection of models from all of the top brands. You can count on a specialist from our team to provide the free consultation that you'll need to make the best choice for your needs.
Versatile Home and Office Window Treatments
These blinds are unique thanks to their lighter and darker vanes. They give you the optimal level of privacy and allow you to make the room as bright or as dim as you want it to be. Of course, you are not limited to a combination of black and white shades. There are numerous options you can mix together, so it pays off to consider your decor carefully and the exact effect that you are looking to achieve by adding these window coverings to the room. The free samples that we offer it will be super easy for you to pick the right window blinds to match your interior decor.
Let Us Make The Choice Easier
All of the models that our team at Sherman Oaks Blinds & Shades offers are of the highest quality that's available today. Our layered shade models are made from strong and durable fabrics which are easy to clean. Your new window coverings will be highly resistant to the damaging ultraviolet rays of the sun and you can expect them to have a long and useful service life. To give you peace of mind, we provide a 5-year warranty with all our products. With us, you can get practically any custom size shades you require. You'll be able to choose whether the layered shades will cover only the glass or both the glass and the frame. After choosing everything, you can count on us to carry out a fast and professional installation.