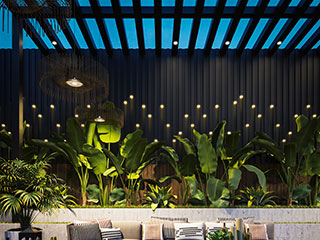 You've got a multitude of ways to cover patios, decks, and other outdoor spaces and structures. From simple freestanding outdoor pop-up canopies to Somfy motorized patio covers with smart controls – you can choose the best option for your needs and budget when it comes to patio shade solutions. We've got a team of professional roller shade installers and designers that specialize in crafting custom made patio covers for every Sherman Oaks area property's needs. With our help and consultation (provided for free, of course) you can easily find the best canopy or shades for your patio area.
Pop Up Canopy Tents
For large open spaces or just small sections, a pop-up canopy can provide an excellent source of shade. Freestanding patio covers offer simple and effective methods to provide shading solutions to outdoor spaces. Very portable, canopy tents make for excellent choices with their fast setup and deconstruction. Sherman Oaks patios with canopy tents can have a moveable shaded section that can suit fast needs and various designs. Using waterproof canopy materials and decorative patterns can also complement the décor of the patio hardscape.
Sail Shades and Patio Awnings
For areas where square or roundish sections don't meet together, you can consider other types of outdoor canopies and shades. Sails can offer a very stylish look with different design patterns and colors to brighten up the aesthetic and bring a vibrant look to your Sherman Oaks patio. Outdoor awnings also work great for roof edges and parts where you want angled patio covers to connect to a specific section. Many people choose shade sails and patio awnings for their outdoor spaces to improve the number of shaded sections. After all, an outdoor canopy made from solid materials will provide ample shade even in smaller sizes. Awnings for patios can add a unique look which also favors décor. Many love the look of shade sails for patios and choose these outdoor canopy options for decks as well as general patio areas.
Patio Covers Motorized With Somfy
Electric smart covers go a long way towards making your patio hospitable and comfortable to lounge in throughout the day. With our custom made smart motorized patio covers, you can enjoy this outdoor setting in style. These technologically advanced outdoor patio shades let you control exactly where the canopy hovers at any point in time. With Wi-Fi connectivity, you can even use tablets or smartphones as remote controls. For the best Sherman Oaks motorized patio covers, you can turn to our professionals. We make custom-designs and sizes for electric patio shades to go with decking textures, hardscapes, and even grass yards. Motorized patio covers can sport waterproof materials and varying sheer features too. So you can maximize comfort while also benefiting from the latest in patio cover motorization technology.
Outdoor Canopies & Patio Shade Ideas
Make use of our years of experience in installing and designing patio covers and shades. From the simplest of shade sails to elaborate motorized patio covers for pergolas, decks, and other outdoor structures. We can give you free estimates on all patio shades, canopies, and other covering solutions to suit your budget, taste, and needs. Call or contact us online to set up a free consultation in-person with a local Sherman Oaks patio cover designer near you.