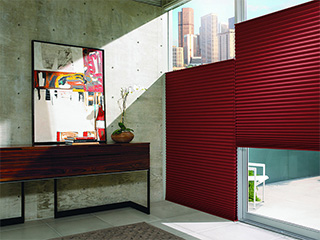 If you want to improve the interior decor of a room, whether it's in your home or business, cellular shades have a lot to offer. These unique window coverings are more than just beautifully designed shades. Their unique structure can effectively create a barrier that will prevent the warm or cool air from escaping the room.
Did Someone Say Energy Efficiency?
That's right. These high-quality window treatments actually provide some extra insulation, in addition to style and light filtering options. By Installing them you can create a cozier indoor setting and enjoy lower energy bills. Your reduced energy consumption will be good for the environment, sure, but it will also benefit you directly, by helping you preserve your desired indoor temperature. Keeping a room nice and cozy without any extra efforts can be invaluable, especially during the coldest and hottest seasons.
Materials of Exceptional Quality
The cellular shades our company offers come are made from the best materials available today. That's why our 5-year warranty extends to all our products. To say that our experts have faith in the quality of our window coverings would be an understatement. All our products boast great strength and durability. But cellular shades, in particular, are known for their durability and - when properly preserved - their longevity as well. Their honeycomb-like pattern allows them to be more damage resistant. As long as you take proper care of them, you can expect them to last for a long time.
A Wide Range of Options
There are plenty of options to choose from when it comes to window blinds and shades for homes or offices. In fact, the sheer variety of products, with different light filtration, designs, and colors, can be daunting at first. How can you decide? Easily. All you need to do is get in touch with our team and schedule a free consultation appointment with our experts. Our representative will gladly answer all your questions, and provide all the information you need.
Made To Fit
You'll have no trouble finding new blinds that will perfectly match the decor any room you want. You can rest assured that the shape and dimensions of your windows won't be a hindrance. All our products are custom made and will fit on them perfectly. Our cellular shades can make your home or office cozier, environmentally friendly, and even more comfortable. Whether you're interested in these blinds or any of our other products, you're bound to find the best window covering options available today when you contact our team.