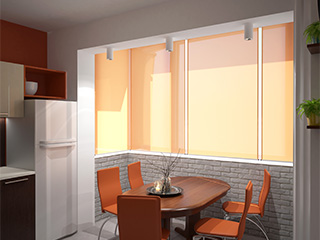 Fabric roller shades are the simplest type in terms of the amount of moving parts they are comprised of. What you have is a single sheet or panel that's attached to a simple roller mechanism that allows the pulling down of the shade. These window treatments can be made of fabric or any other similarly pliable material such as a fabric-paper mesh.
What Can These Blinds Offer Me?
If you want the ability to darken the room, then you can choose to have darker shades installed, instead of ones with sheer fabric that's semi-transparent. If you prefer to have some amount of sunlight come through even when these coverings are pulled all the way down, then you have to choose a lighter colored material. Translucent pull-down shades can be a great addition to living rooms and other areas or office spaces where some natural lighting is desired.
Functional, Simple, Yet Elegantly Designed
The roller shade blinds are deceptive when it comes to their design. Yes, they are very simple but it is their simplicity that makes them fine decorative pieces that can match or complement the current decorative motif of any home or office. As far as window shades go, they are very versatile. If you prefer, you can even give in to your modern art cravings and opt for printed ones that will add extravagance and unique design to any room you put them in.
Consult With Our Experts
Seeking the help of a professional is the best way to make sure you're making an informed decision. It doesn't matter whether you require wide or narrow panels, here at Sherman Oaks Blinds & Shades we specialize in providing custom made window coverings according to what you want and need. Our 5-year warranty applies to all our products, and our team is happy to offer free color samples should you so desire. Give us a call today and ask our experts anything.