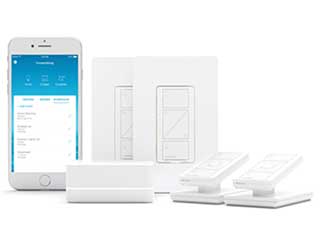 Enjoy the innovation of remote control window coverings with Lutron shade solutions! These smart window shades let you utilize sunlight and control energy in any Sherman Oaks area home or business space. Our variety of designs for Lutron shades let you complement décor in all sorts of ways. Use our custom made-to-measure motorized window coverings to improve not only aesthetics but functionality too. Remote control window shades with silent motors and wireless controls provide energy efficiency solutions to control light, climate, and more. Find out why Lutron shades make for such a functional choice for residential and commercial businesses.
Smart Shades For Windows
In today's day and age, you no longer have to spend time on trivial or perfunctory tasks. With automatic Lutron shade solutions, you can optimize indoor climate, energy efficiency, and proper lighting simultaneously. Smart window shades provide an innovative way to control both temperature and privacy, as well as lighting levels. You can have the entire system operate automatically with brightness sensors and energy-saving solutions. Lutron shades give you all sorts of smart window covering choices to pick from. With decorative designs and clean aesthetics, these smart shades can improve the functionality, energy efficiency, and décor of any property.
Motorized Lutron Shades – Sherman Oaks's Best Wireless Shade Solutions
An excellent way to control natural light is with automatic window coverings. This also helps in controlling energy efficiency and utilizing light to the best effects. Custom made Lutron shades let you match the perfect covers for any window, skylight, glass window walls, or other big or small surface areas. With switches and dimmers and computerized remote controls for window shades, Lutron allows for a true high-tech solution with a minimalistic approach. Aesthetics go a long way, and motorized shades let you maximize on décor as well. Considering getting new motorized window covers for a local property? Consult with our experts for free! Get a free estimate on Lutron shades for Sherman Oaks homes, businesses, or other properties! Schedule an appointment and we'll come to you!