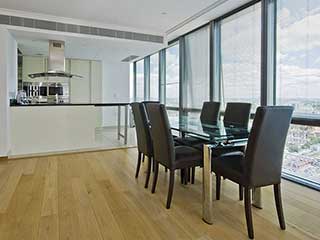 Keeping your window blinds properly cleaned is a great way to ensure that your home is always hygienic and presentable while also ensuring that they enjoy an extended lifespan. Unfortunately, not many owners of these coverings are aware of how easily they can be kept clean. In the case of PVC products, adequately cleaning them is made even easier thanks to the durable nature of the materials, so here are some tips and methods on how to ensure that you do it properly.
Warm Water and a Piece of Cloth

One of the most common blind cleaning methods requires nothing more than warm water and a clean cloth. The use of soap or detergents is not always the best idea, since their chemicals may prove harmful to the PVC finish. So, the best way when using this method is to simply dampen a clean cloth in some warm water, and gently get to work on all the visible scuff marks and dirt. This may require a little time and elbow grease, but the results are very solid. One should take care not to apply too much pressure when using this cleaning method, so as not to damage the window shades themselves, or to ruin the PVC finish. Remember, go easy on them while cleaning, and if this method isn't proving as effective as you'd hoped, try one of the following ones.

Give The Blinds a Bath

This might sound like overkill, but it is actually a very effective way of keeping modern blinds clean, especially if they have been accumulating dirt and debris for a very long time. The process is remarkably simple, however. Simply remove the blinds from the window and place them in a warm, un-soaped bath, and get to work cleaning each slat individually with a soft cloth. Once you have given each slat a once over and are happy with the results, gently wipe them dry with a soft towel and hang them back on the headrail. This method is best for window treatments in areas that are most likely to get filthy, making it perfect for bathroom, living room and kitchen blinds.

Use a White Eraser

Looking for a non-intrusive way to quickly remove mild scuffs and marks from the slats of your window shades? Then you might be surprised to learn that a clear white pencil-eraser does a pretty good job in this respect. But go easy on the rubbing. Applying too much pressure could result in damaging the PVC finish on the slats, so always take care when using this method. Armed with these simple tips, you should have no problem cleaning your PVC window blinds again, no matter how dirty they have gotten over time.