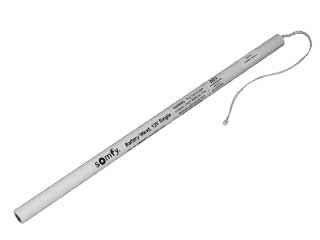 You can utilize motorized smart window blinds and shades for more than just convenience. With Somfy shading solutions, motorized using the latest advanced technology for remote control window treatments, you can optimize indoor climate at all times. Use the high-tech Somfy solutions to control natural light indoors or even outdoors. Find the best option for your needs in any part of your Sherman Oaks residence or commercial business space. With Somfy wireless motorized blinds and shades for windows and patios, you can add color and utility to any space.
Smart Wireless Blinds
The simplicity and convenience of Somfy blinds have made them one of the most perfect additions to smart home systems. Have your motorized blinds cover your windows automatically whenever the sun gets too hot or in hours you want more privacy. Smart Somfy blinds can work by temperature and brightness sensors to suit a specific indoor climate you choose. You can also choose to have your smart motorized blinds respond to voice commands. With smart Somfy shading solutions, convenience is at the tip of your fingertips (or tongue)!
Motorized Drapery Solutions
For those who love the classic elegance of blackout curtains and various drapes and valances, Somfy has the solutions you want. Motorized curtains and drapes can give any room a significant aesthetic boost, while also providing the advanced technology needed to control sunlight effortlessly. Blackout curtains are incredibly popular, especially with smart Somfy controls that let you easily reduce or increase levels of light and darkness in the room. Blackout window treatments offer bedrooms a major upgrade, with a huge positive influence on sleep. And since sleep affects mood and health, you'll probably find motorized Somfy curtains and drapes real lifesavers in that regard.
Pergola Screens, Motorized Awnings, and Patio Covers
Trying to find a way to add some way to shield yourself from harsh sunlight in outdoor shade structures? Whether for patios, gazebos, or decks, Somfy screens and awnings have the perfect covers for you. Motorized patio shades provide ample, well, shade for small or large patio areas. You can also add angled shades with motorized awnings in different designs. Block sunlight coming from the sides with Somfy pergola screens that roll down smoothly and silently like the high-tech shading solutions they are. Our Sherman Oaks area motorized patio cover installers offer customers from all nearby regions custom-made solutions for any outdoor space.
Best Somfy Blinds and Shades in Sherman Oaks
With special offers and discounts on all sorts of products, our made-to-measure motorized window treatments and outdoor shade solutions offer the best bang for your buck. Consult with our expert designers and installers to find the Somfy blinds, shutters, or shades perfect for any need you have. With the best prices on motorized shading solutions near the Sherman Oaks area, you'll find we always have something fantastic for homes, businesses, and other properties. Get in touch with us anytime to set up a free estimate appointment in-person.