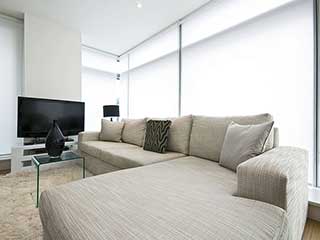 Having a high window that is hard to reach and therefore can't be fitted with manual shades, or a home with a lot of windows in general, can be a hassle when you want to increase or decrease the amount of sunlight that gets in. That is, unless you have custom made motorized shades that can be opened and closed with a remote control or a wall switch!
Skip The Hassle
Whether you struggle trying to get all of your windows treatments lined up to be perfectly even, or are just tired of fighting with the strings to get them to open and close, our team has the perfect solution! Our custom made motorized roller shades mean no more strings, and no more hassle. You'll be able to easily have all the shades on the front of your home open and close simultaneously or separately, and to the exact same degree, or to various levels. That means that - if you want them to - they'll all line up beautifully.
Talk About Convenience
You'll also be able to close them quietly without having to struggle or to stand there waiting for them to finish moving. You can decide on a color or pattern to suit whatever room you want these blinds to be installed in, or choose blackout shades if you want to completely keep sunlight out, like in bedrooms, for example, to ensure a great night's sleep. Forgot to close the shades before you got into bed? No problem! Just press that button and watch them move automatically while you stay under the warm and cozy covers.
Perfect For Hard to Reach Windows
Some windows are simply installed too high up for you to place manual shades on them. It's not that it's physically impossible, it's just that doing so will be pointless, as it will be an incredible hassle to draw them. That means that, unless these windows are always fully curtained and close, they'll let the sunlight pour in and heat up your home, or they'll allow heat to escape in the winter. You can put an end to this by getting motorized roller shades! No matter how high the windows are, you'll be able to open or close them as you as you see fit, and you'll even have a timer option that will make them open and close automatically whenever you want.
Installation Will Be a Breeze
You'll pick the fabric and color you want to match your interior decor, and our team will measure your windows to ensure the shades will be custom-made to fit them all. The actual installation will take less than you'll expect it to take, and your new custom-made motorized roller shades will be ready to use in no time! Contact Sherman Oaks Blinds & Shades and find out more about the different options available to you.