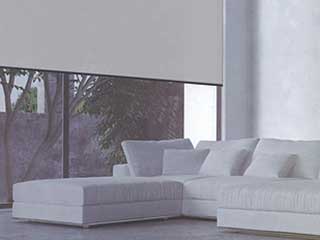 Blackout blinds are some of the most protective window treatments you can get. Blackout blinds are made from thick fabric backed with flexible, reflective foam. These blinds are as soft and flexible as any other fabric, but they block out light like a solid wall. If you need the ability to darken a room at any time of day without making it stuffy or claustrophobic, blackout blinds are what your Sherman Oaks property needs.
Room Darkening Blinds - Pick Your Style
Do you have a tall, narrow window to cover or a long low one? Here at Sherman Oaks Blinds & Shades, we can custom design our blackout blinds for any window in Sherman Oaks. Vertical blackout blinds that slide back and forth on tracks are perfect for longer kitchen, living room, or lounge window frames. Horizontal blinds for standard and tall windows fit most bedrooms and offices. If you want some real style and decoration in your blackout blinds, try our blackout Roman shades. Available in any color from jet black to cream white, these pleated blinds turn any window into a visual treat. Talk to our team about embellishments, and you can have curtains, valences, tassels, and other detailing added to your Roman shades as well.
Affordable Blackout Blinds For Bedrooms
Bedroom window blinds aren't just to keep the sun out of your face while you sleep, though that is important. The bedroom is full of bedding, wallpaper, clothing, and other delicate materials. Prolonged sunlight can bleach and ruin them. Meanwhile, bedrooms need to stay comfortable, airy, and relaxing, so heavy window shutters are out. Blackout blinds account for all these needs. Our products keep out all sunlight and peeping neighbors without ruining the atmosphere or air circulation. Bedrooms and living rooms are also great places for Roman shade style blackout blinds.
Blackout Blinds For Your Sherman Oaks Office
The workplace needs to be comfortable, especially if you're trying to keep customers and employees for the long term. Keeping out glaring sunlight and distracting outdoor activity does a lot for comfort! Blackout blinds are suitable for any office, agency, or other indoor commercial space. Business windows are also where our vertical blackout blinds can come in handy. Conference and lounge windows are often wall-length, and vertical blinds cover those better than any other option. If you have a larger office or another place of business, consider motorized blinds on remote control or timer. This makes them easy to adjust during work hours without causing a disturbance.
Custom Motorized Blackout Blinds
Sherman Oaks Blinds & Shades offers electric openers for our blackout blind products. Home and business owners lose money every year by forgetting or not getting a chance to adjust all their window coverings. Sunlight damage and air conditioning expenses start adding up over time! Our Sherman Oaks blinds installers can set up your motorized blackout blinds to work by a timer, environmental conditions, or by a remote control handset. Unparalleled convenience and long-term financial savings, all in a simple motor operated system!
Blackout Window Treatments For Sherman Oaks & Nearby
Give us a call today, and we'll set up a free consultation appointment to give you an estimate at any address near Sherman Oaks. Get started now, and your custom made blackout blinds will be ready before you know it!