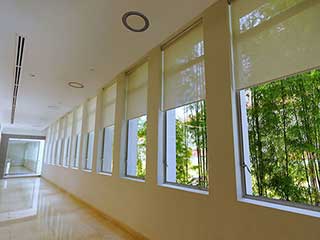 Most architects love to use natural light to illuminate a room. You can especially notice that with modern office spaces. There has been a recent trend to try and implement natural sunlight to brighten up the rooms and promote employee productivity. Many kinds of research suggest that Vitamin D can contribute to brain productivity.
Excellent UV Protection and Glare Prevention
Unfortunately, the sun's warm rays aren't all good, and that harmful ultraviolet radiation is something that we all need to take into consideration. There's also glare, which can make our eyes strain harder, especially when it lands on reflective computer screens. Luckily, there is a simple and effective way to control sunlight exposure - Window treatments.
A Range of Choices
To say that our company has all sorts of different options to offer you would be a serious understatement. From high-quality cellular shades that add insulation to motorized wooden blinds that bring both style and convenience. The different types, materials, and operation-styles make for very interesting and unique combinations. You can really make the inside of your business stand out. Heck, with exterior blinds, you can also change the outside layout if you so choose. Want to avoid walking to the window each time you want to adjust the lighting? Get motorized blinds installed and you'll be able to do that with the push of a button. Want a simplistic look that moves in a unique way? Roman shades are a great choice. Looking for UV protection without reducing visibility? Sheer shades will give you just that.
Free Consultations Available
Finding the right window treatments isn't hard. It's as easy as calling our team at Sherman Oaks Blinds & Shades. Our representative will sit down with you and make a recommendation as to the type, style, design, material, and color of shades that will best complement the decor of your office. Maybe you prefer a classic look that's reminiscent of ancient functionality. In that case, you can have roman shades installed. These can be fitted for small or large windows. They can also be used to cover doors or glass walls. Let's not forget about the classic-looking roller shades. The choice will really depend on your personal taste and preferences, but our experts will provide all the information you need to make the best decision. Schedule an appointment today to learn about the different office window blinds and shades available today.