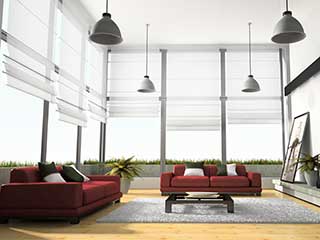 It's our company's goal to make high-quality custom window coverings available to every home or business owner living or working nearby. Thanks to our unique design process and emphasis on quality throughout, we're able to offer our customers truly excellent window treatments from motorized shades to faux wood and aluminum blinds. For truly made-to-order products that suit any room, look no further than our team. The high quality of our products has made us quite renowned throughout California.
All The Information You Need
Needless to say, choosing the right blinds or shades that will best suit your needs is essential. Ensuring that light is properly controlled plays a huge part in the ambiance and usability of any room - you can never be comfortable if light and glare aren't kept to a minimum, and there's no privacy from outside viewers. Knowing which materials and styles to select isn't easy, though. That's why our company offers free consultation appointments with an expert who can answer all your questions. Our representative will come to your property and assess your exact requirements, discuss all the options with you and make recommendations accordingly.
Our Dedication To Quality
Our team never compromises on the quality of our products, from the aluminum ones to the wooden or bamboo varieties, or the different fabric options. Our window treatments speak for themselves, but our company also knows that you need peace of mind when making an investment. That's why all our products come with a 5-year warranty, so you can be certain you're getting the best the market has to offer.
Which Treatments Should I Choose?
The decision can be hard. Nobody knows that better than our team. There's such a wide range of materials and colors to choose from, not to mention different types of window treatments too. Those looking for convenience and functionality may prefer motorized drapes or layered shades. Others that want to complement an existing alfresco design, for example, may opt for bamboo blinds or wooden ones. Those are just two simple examples of a vast number of potential combinations. Whether you need functional and reliable aluminum blinds or the natural light control and insulation offered by cellular shades, our experts will help you find the perfect solution.
Your Local Window Treatments Experts
You don't have to go far to get quality window blinds, they're just nearby. Contact Sherman Oaks Blinds & Shades today to learn more about the different options available for you to choose from.
Just Give Us a Call!

Long Term Warranty

Top Quality Materials

Professional Installers

Custom Made Window Treatments