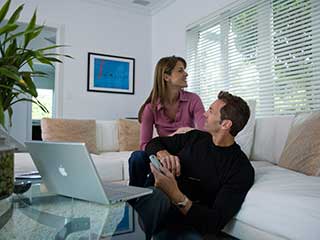 Window blinds are a necessity, but keeping them in the right place can be quite a hassle. Even the drawcords that make lighter window treatments like Venetian blinds easier to adjust have issues, especially for child safety. Battery-powered motorized blinds solve pretty much all the issues that window coverings have. If you choose some more advanced options like the ones we include with our wireless motorized blinds, they can even help you with home management. Getting new motorized window blinds custom made for a Sherman Oaks area property is simple. By booking a free consolation with our local décor and blinds experts, you can pick and choose different aspects of these products. Motorized window coverings have a lot to offer both in décor and utility. Get the best choice for your property at the lowest prices around.
Why Choose Motorized Blinds?
To get the obvious part out of the way, if you have motorized window blinds you won't need to walk around adjusting them constantly. That might not sound like much if you only have a couple of windows to worry about. If you're away a lot or have a large house or office suite to manage though, it makes a big difference. Wireless motorized blinds are also safer for pets and small children than any manual window covering. Finally, you can put motorized blinds on a timer or sensor that moves them automatically as the weather conditions change. The savings to your energy bill can eventually pay for your motorized window blinds and then some! Whether for home or a place of business, motorized window blinds provide a major benefit. And you can save money by consulting with our local Sherman Oaks blinds installers for free!
Automatic Motorized Window Blinds With Wi-Fi
If those smart window blinds that open and close themselves sound interesting, there are a few approaches you can take to them. The first and simplest is to put your motorized blinds on a timer. It won't give you much versatility, but just having the blinds raise and lower themselves in the afternoons and mornings saves you stress and costs. A more sophisticated option would be plugging your motorized window blinds into a heat or sunlight sensor. Now the blinds react to the weather in real-time! You can also get Wi-Fi-connected blinds that respond to weather reports, or that simply update you and request orders via a smartphone app. Smart remote control methods for motorized window coverings provide a fast and easy way to add or decrease the light in any room.
Solar-Powered Blinds For Home or Office Windows
If you're interested in saving power and eliminating the need for battery recharge periods, solar-powered motorized blinds might be what you're looking for. The PVP strips on the blinds' outer surfaces add an instant blackout effect and meanwhile work on recharging the battery. You don't just save yourself net power expenses by reducing heating and cooling needs this way. Rather, your solar-powered motorized blinds are a pure benefit in gross as well as net terms! You can save money with solar motorized blinds as you'll harness energy from the sun instead of regular electricity. This addition makes solar-powered window coverings hugely popular. While installation can take a bit longer and the initial price climb a bit, very soon your new motorized blinds will pay back dividends.
Cheapest Sherman Oaks Motorized Blinds Installation Service
Before you pay a cent on our custom-made motorized blinds and shades, you can get a free consultation session with our experts. They'll advise you on what style, material, and technology would best suit you, and give you a quote on the new motorized blinds. We make blackout blinds for bedrooms and guest rooms, Venetian window treatments for more partial shading, vertical coverings for big wall windows, and much more. Almost any type of window treatment works better with blinds motorization. So contact us today to schedule a free estimate on any blinds or shades you want.