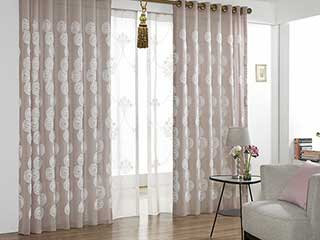 So you decided to upgrade your property's decor by installing the timeless and beautiful looking roman shades, or some other type of fabric coverings. That's great, now how do you clean them? The key to keeping fabric window coverings in great shape is cleaning them gently and regularly. By doing this, you'll be able to keep the dirt and grime to a minimum without damaging the material. This type of maintenance is important if you're looking to get years of use out of these shades.
Vacuum Your Blinds

An easy way to tackle the task of cleaning your blinds is by using the vacuum cleaner. Whenever you vacuum your home, as you normally do from time to time, add the extra step of running the vacuum over your Roman blinds with the upholstery attachment. This will remove the dust and dirt, preventing the creation of build-ups and reducing the number of airborne contaminants floating through the indoor air.

If your blinds are embroidered or have a lot of excessive details that makes vacuuming a bit difficult, try using a traditional duster instead. Gently run the duster over the surface of your shades in order to loosen dust and dirt particles. A soft, clean cloth also works pretty well, although you need to be careful you don't scrub too roughly as this can push the dirt deeper into the fabric.

Proper Odor Control

Fabrics can trap odors as well as stains, making odor removal an important part of your overall cleaning routine. Whether your kitchen shades absorbed the smells of your latest meal or your patio blinds got soaked in smoke from the grill, it's important to combat the odors regularly to prevent your window coverings from becoming grungy, dirty and smelly. Spray cleaning products, such as Febreeze, can help combat odors when trying to keep dust and dirt to a minimum doesn't do the job.

Washing The Shades

If your shades are made of durable machine-washable fabric then you can get rid of stains and dirt with relative ease. If not, then you're left with the option of hand-washing the material. First, determine if the stain is oil-based or not. If it is oil-based then a gentle stain remover may be necessary, but if not, then stick to club soda and water. Be careful not to scrub the stain further into the material but also be sure to rinse the area as soon as possible to prevent it from setting. With a few extra steps in your cleaning routine, you can keep your blinds looking brand new for years to come. If you're looking for modern window treatments for your home or office, give our team at Sherman Oaks Blinds & Shades a call today.