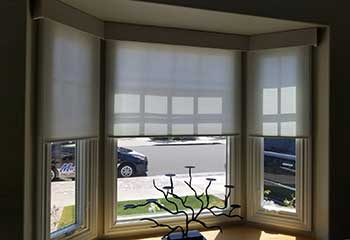 Blinds for Bay Windows
Customer Issue: Due to their unique shape, the customer wanted properly fitting blinds for her bay windows to better keep out damaging UV rays and protect her furniture from bleaching.
Our Solution: Our experts had the perfect solution with our custom-made bay window blinds that would easily cover the large windows. Once she determined that cream color would best suit the area, they were created based on the exact measurements of each window and installed by our technicians right away.
Carmen Cannon
- Beverly Glen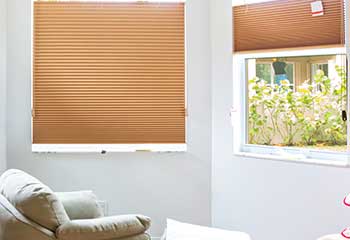 Bamboo Shades
Customer Issue: Wanted new natural shades that will bring in soft filtered light to a window seat surrounded by a bay window.
Our Solution: Our team installed custom-made natural-woven bamboo shades, in earthy tones. We professionally fitted them inside the windows to create a private reading area, with easy privacy and light control using continuous cord loops. For an added effect, the edges were bound with a contrasting color.
Jesse Carrillo
- West Hollywood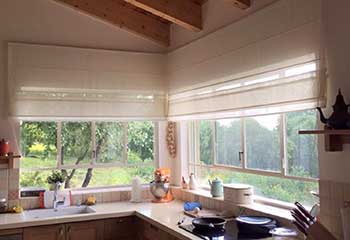 Pleated Shades
Customer Issue: This customer needed a window treatment that offered UV protection and could be made to fit his oddly shaped windows.
Our Solution: Our team suggested pleated shades because they can fit into any shape of window and protect against UV rays. They carefully measured the windows and returned as soon as the shades were made to install them.
Lee Robertson
- Sherman Oaks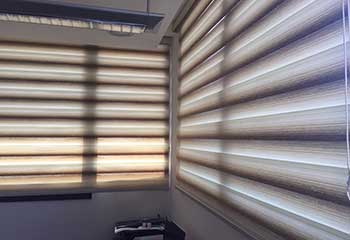 Motorized Shades
Customer Issue: This customer realized he was wasting too much time on manually opening and closing shades, and was looking for a modern solution.
Our Solution: Our team had a very straightforward job here – to offer the right style of shades – and this time with a motor. The shades were ordered and when they arrived our team made sure everything worked perfectly and showed the customer how to program and use the remote.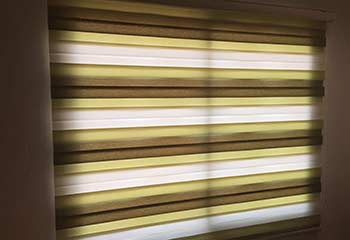 Layered Shades
Customer Issue: Our customer was looking for one window treatment that can both diffuse the light coming in and darken the room when necessary.
Our Solution: As soon as our customer told us about her needs, our team knew layered shades would work best for her. After the product had arrived, our technicians mounted the shades, demonstrated how everything worked and left some useful advice on maintenance.
Lucy Brown
- Sherman Oaks